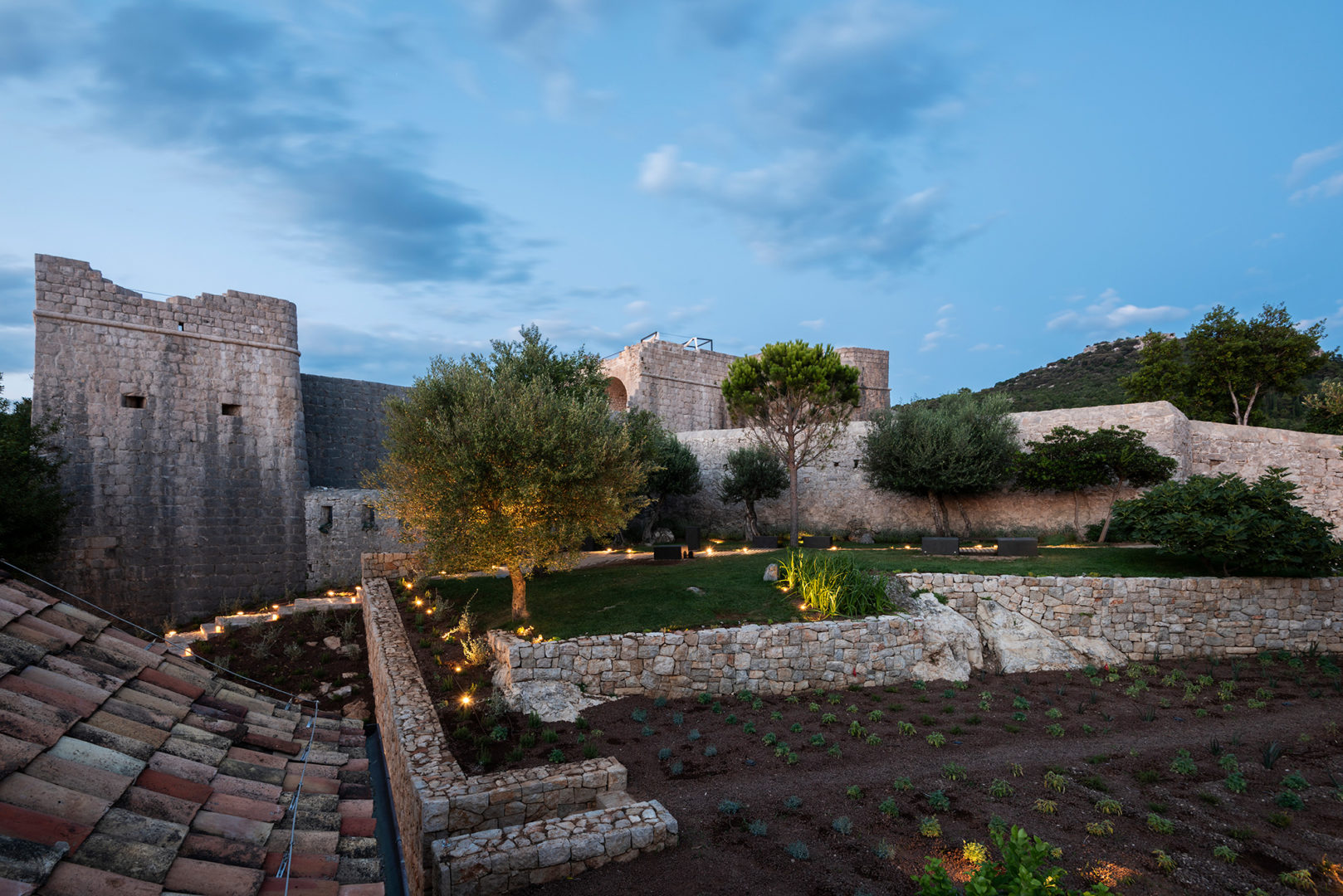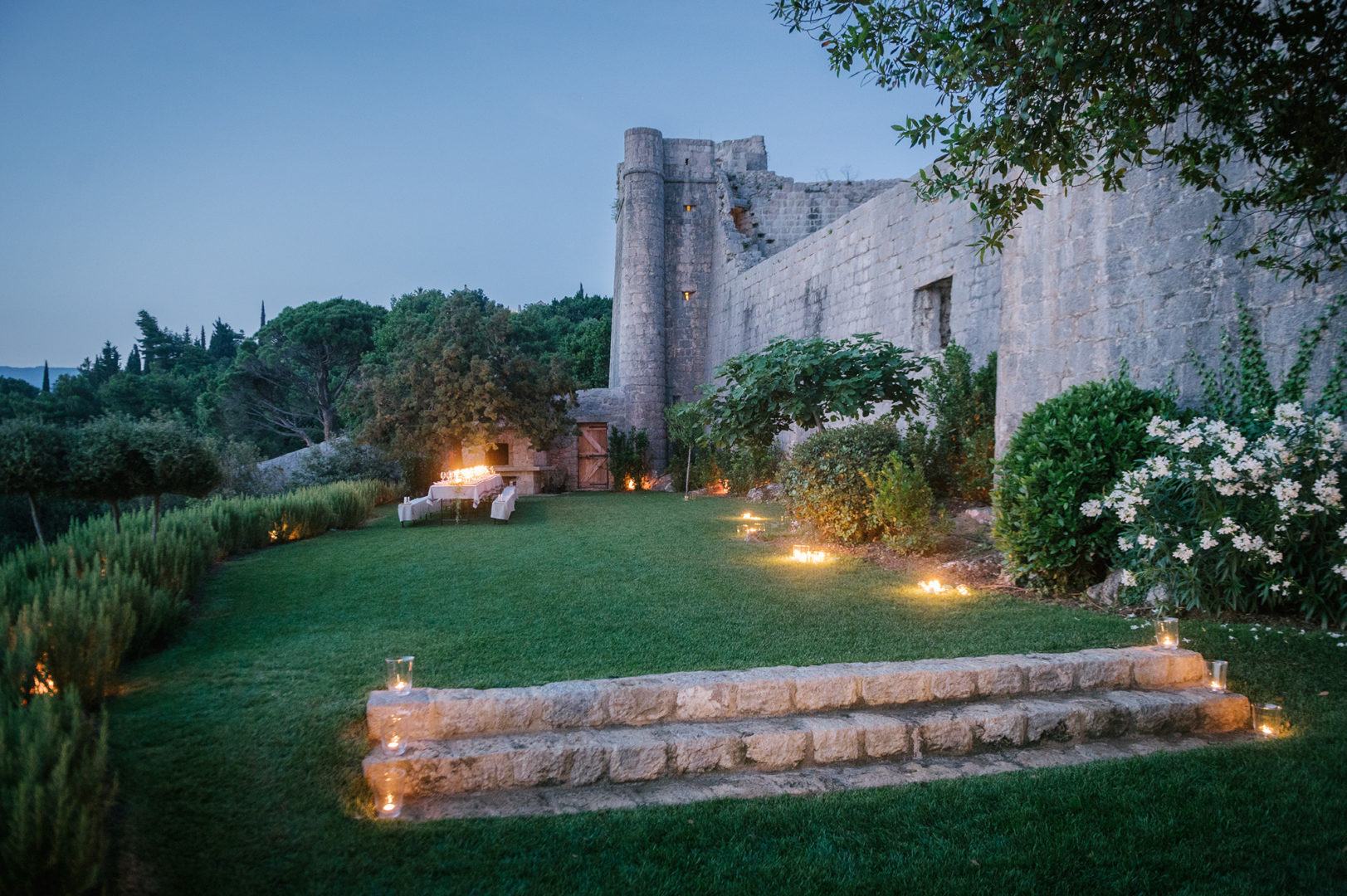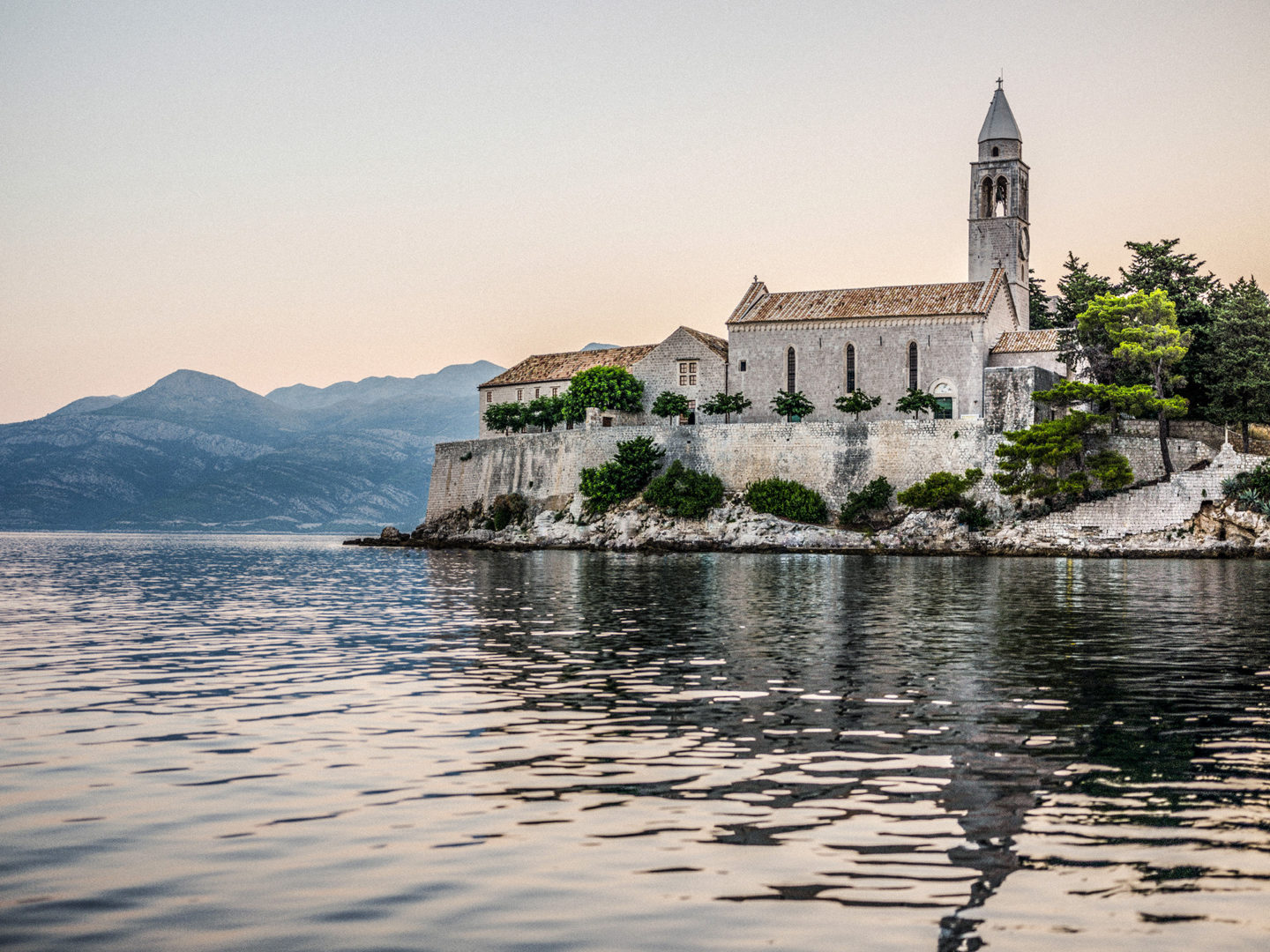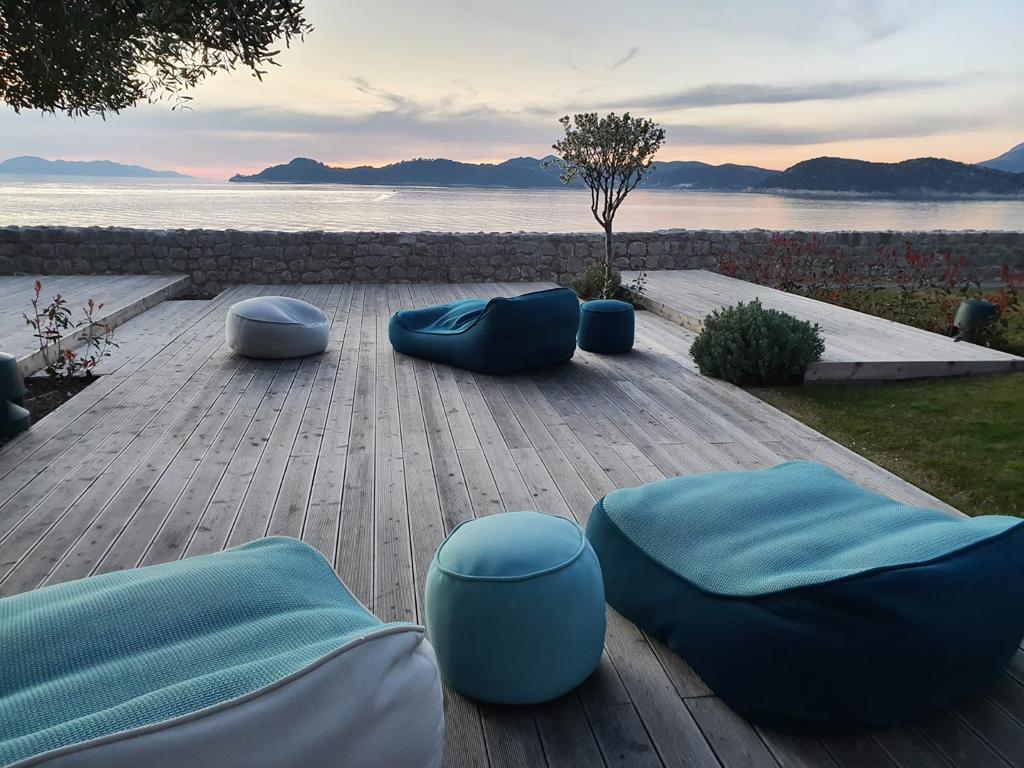 The secluded atmosphere of the monastery, fortress, and garden provides a unique backdrop to any event. Meditate, debate, and relax, reconnect with nature in our secluded gardens, or unlock your creativity inspired by the masterful works of the Thyssen-Bornemisza Art Contemporary collection. For overnight stays, five unique bedrooms are available, decorated with stunning examples of contemporary artwork from our collection. Further accommodation can be arranged within easy walking distance.
LOPUD 1483 offers a variety of locations and experiences that can be tailored to every taste, from the most intimate and private gatherings to high-profile events, as well as seminars, film festivals, performances and concerts.
Please contact us for more information.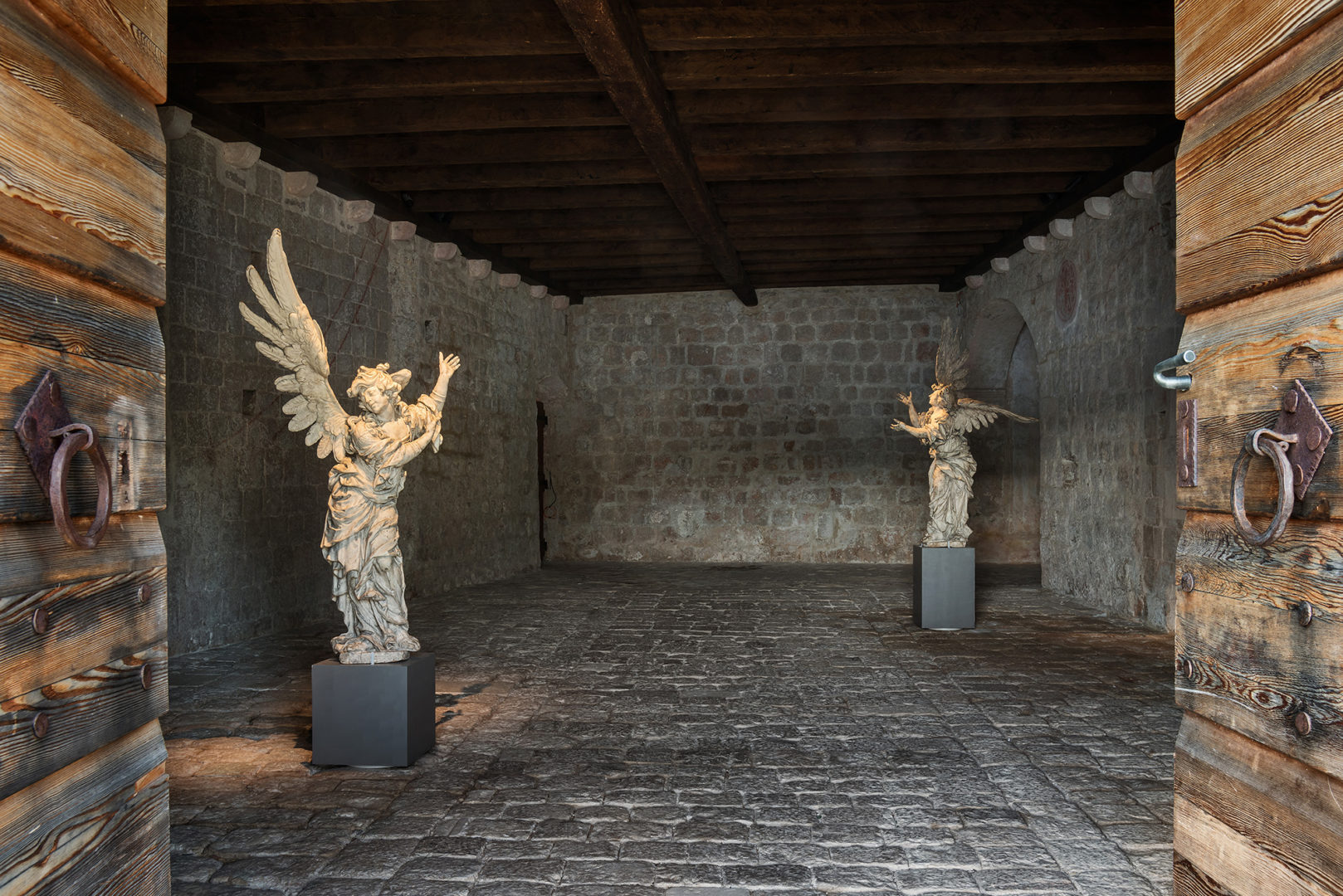 ANGEL'S HALL
In this beautiful space, two eighteenth-century Baroque angels attributed to the Polish sculptor Michael Klahr greet you as you enter. They are among our favourite works from the Thyssen-Bornemisza collection. Complementing these delightful sculptures are original wall inscriptions and traces of engravings from times past. Together, these create an atmospheric indoor space ideal for hosting welcome drinks and convivial receptions. This room is redolent of history and tradition, rich with stories of the local history that resonate through the ancient walls.
DINNER FOR UP TO 40 GUESTS
RECEPTION FOR UP TO 80 GUESTS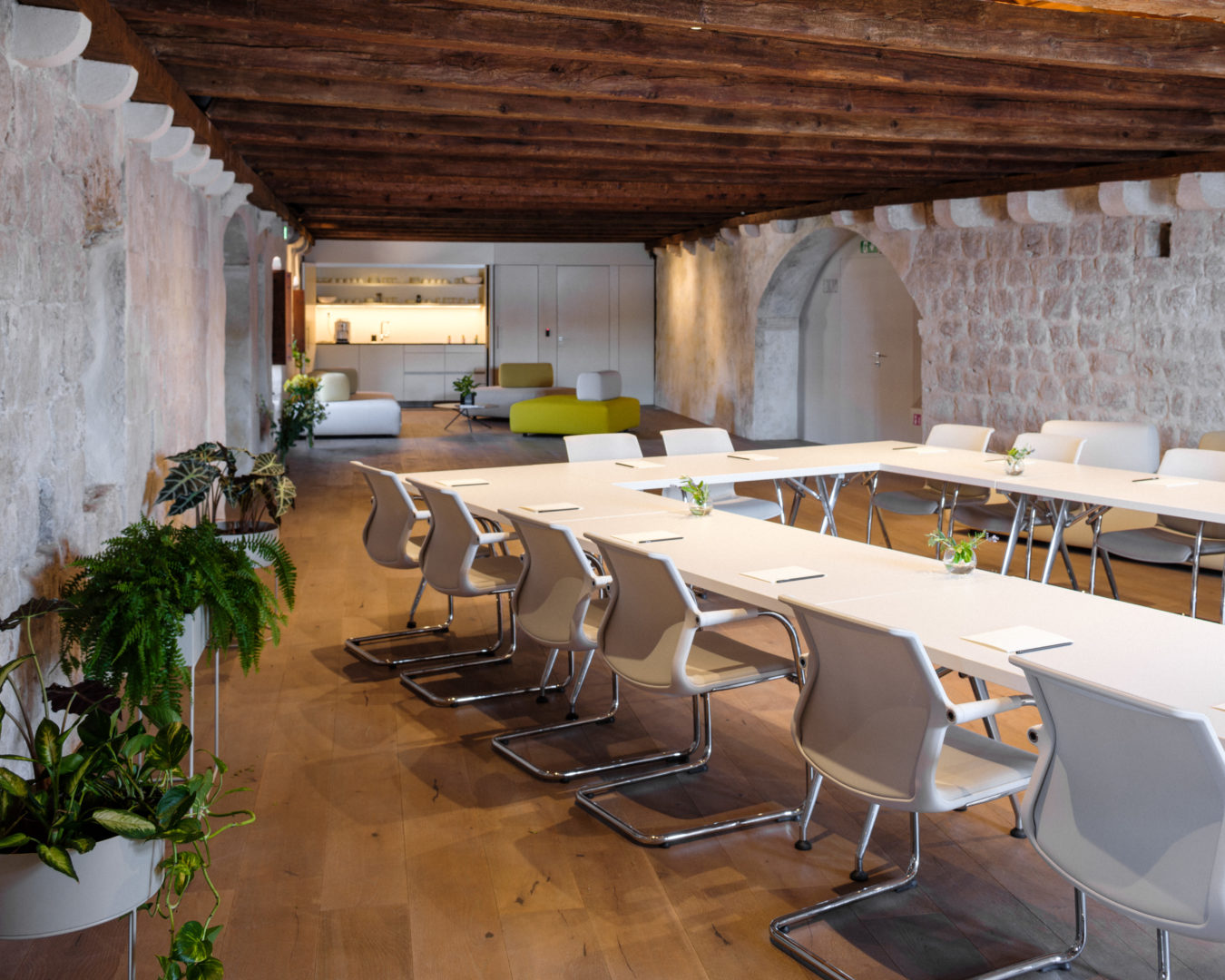 SEMINAR ROOM
LOPUD 1483's Seminar Room offers an inspiring and uplifting space that allows busy minds to pause for a while, take a deep breath and contemplate the future.
Inside the simplicity of the stone architecture, you will find the perfect space to focus with no distractions, alongside the latest technological meetings facilities, including interactive touch screens, a multi-channel sound system and skilled technical support.
MEETINGS FOR UP TO 45 PARTICIPANTS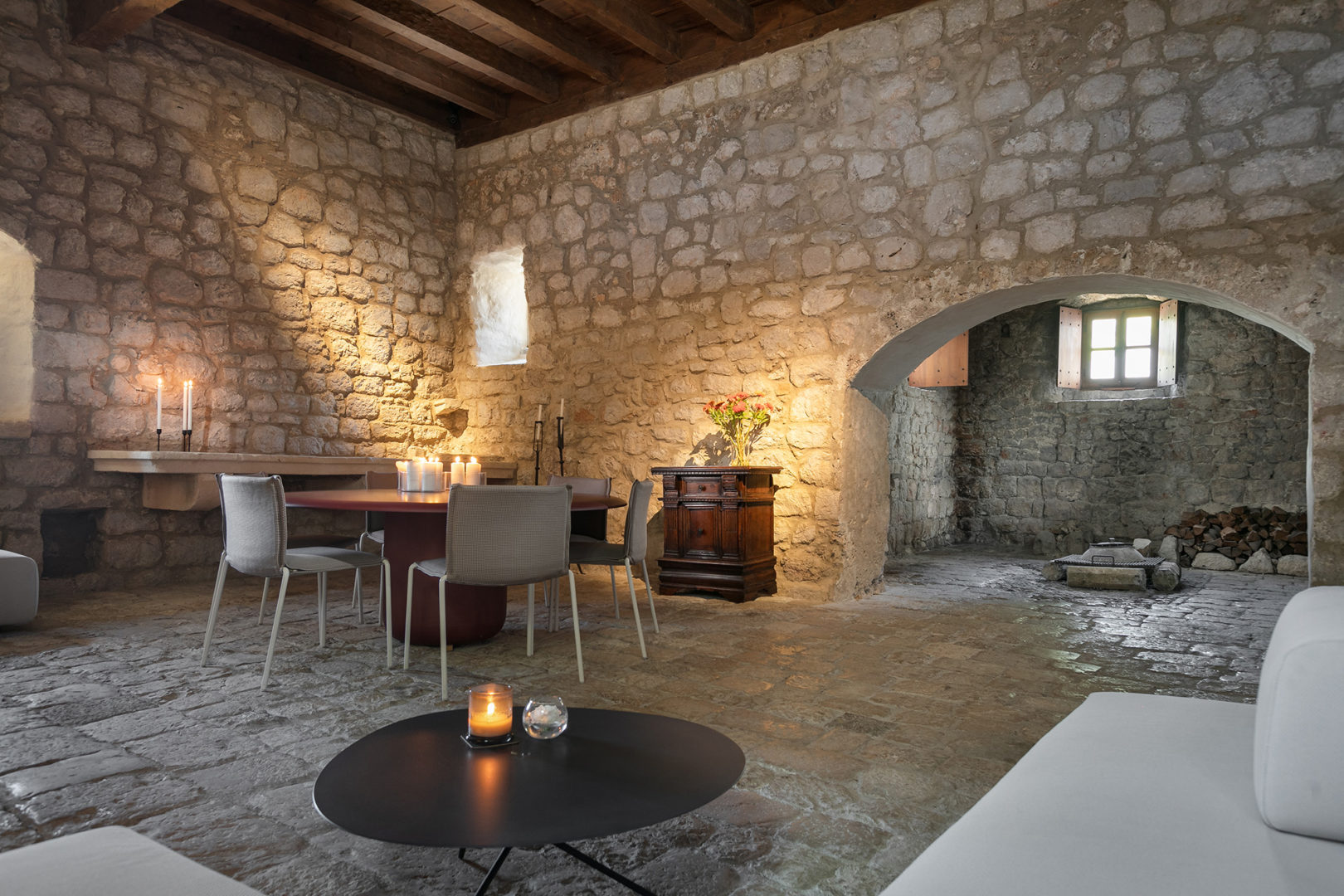 Old kitchen
In the charming and captivating Old Kitchen, it is possible to build an open fire and make use of a large, fully functional bread oven. Thanks to the ancient technique of medieval bread baking, the oven is perfect for making authentic fresh pizzas today. Bare stone walls and the warmth from the open fire make it a cosy shelter for smaller dinners or cocktails during windy evenings. It is an ideal base for a party or a reception in the sunset-facing garden next to it, perfect for relaxing in the dusky glow of the fading sunlight, while socializing with friends.
DINNER FOR UP TO 8 GUESTS
GARDEN RECEPTION FOR UP TO 80 GUESTS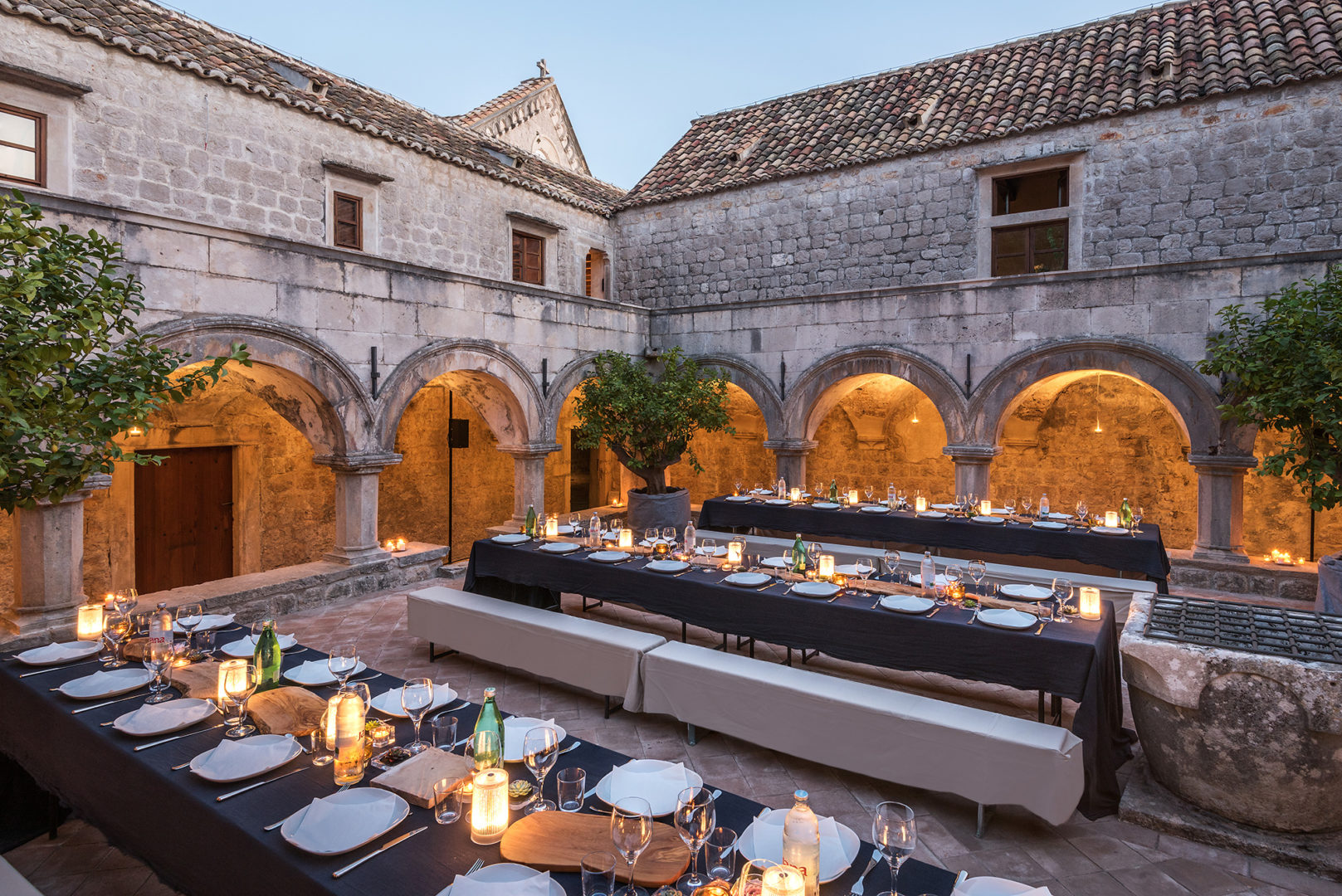 CLOISTER
The heart of the monastery is a stunning example of the attention to detail and sensitivity with which the restoration has been completed. The addition of contemporary details has only served to highlight the beauty of the original plaster, tiles, and stone work that adorn this area.
Secluded private dinners, receptions and cocktail parties can be held under the Gothic vaults, as well as in the centre of this majestic and magical space.
DINNER FOR UP TO 48 GUESTS
RECEPTION FOR UP TO 110 GUESTS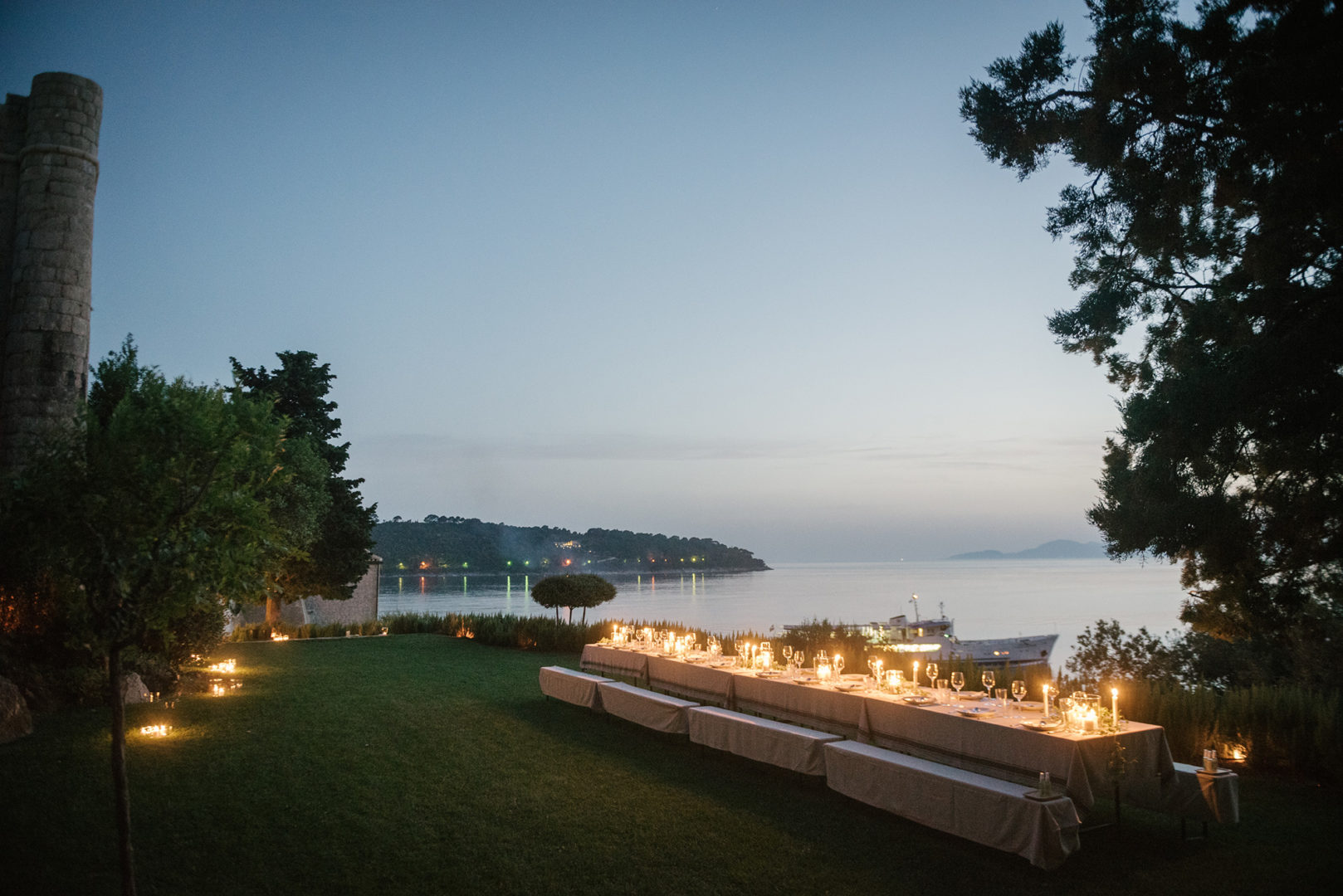 LOWER GARDEN
The impressive lower garden once served as. a pleasure garden for both the friars and Lopudians and boasts a traditional pergola walk. Here you can enjoy lounging in the sun or sitting on the lush, verdant lawn under the shade of ancient olive trees, with breathtaking views of the Adriatic Sea.
The monastery's sundeck and surrounding garden provide a spectacular setting for dining, receptions, and socializing al fresco.
DINNER FOR UP TO 80 GUESTS
RECEPTION FOR UP TO 300 GUESTS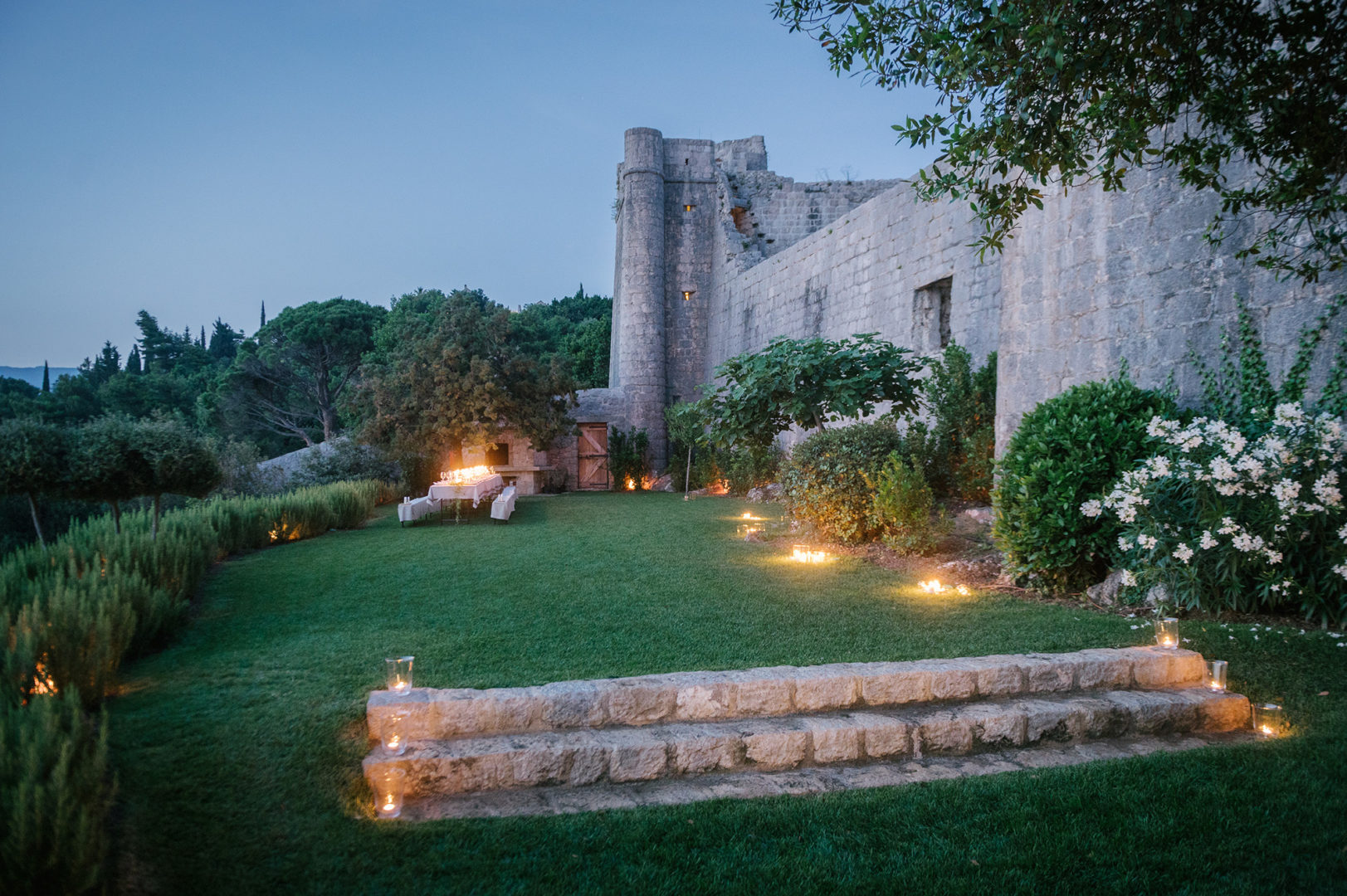 UPPER GARDEN
The Upper Garden, stretching alongside the fortress wall, is encircled with aromatic herbs and native Mediterranean greenery. It offers stunning views of the neighbouring islands and is an idyllic setting for seated dinners, picnics, and casual barbeques.
DINNER FOR UP TO 80 GUESTS
PICNIC FOR UP TO 40 GUESTS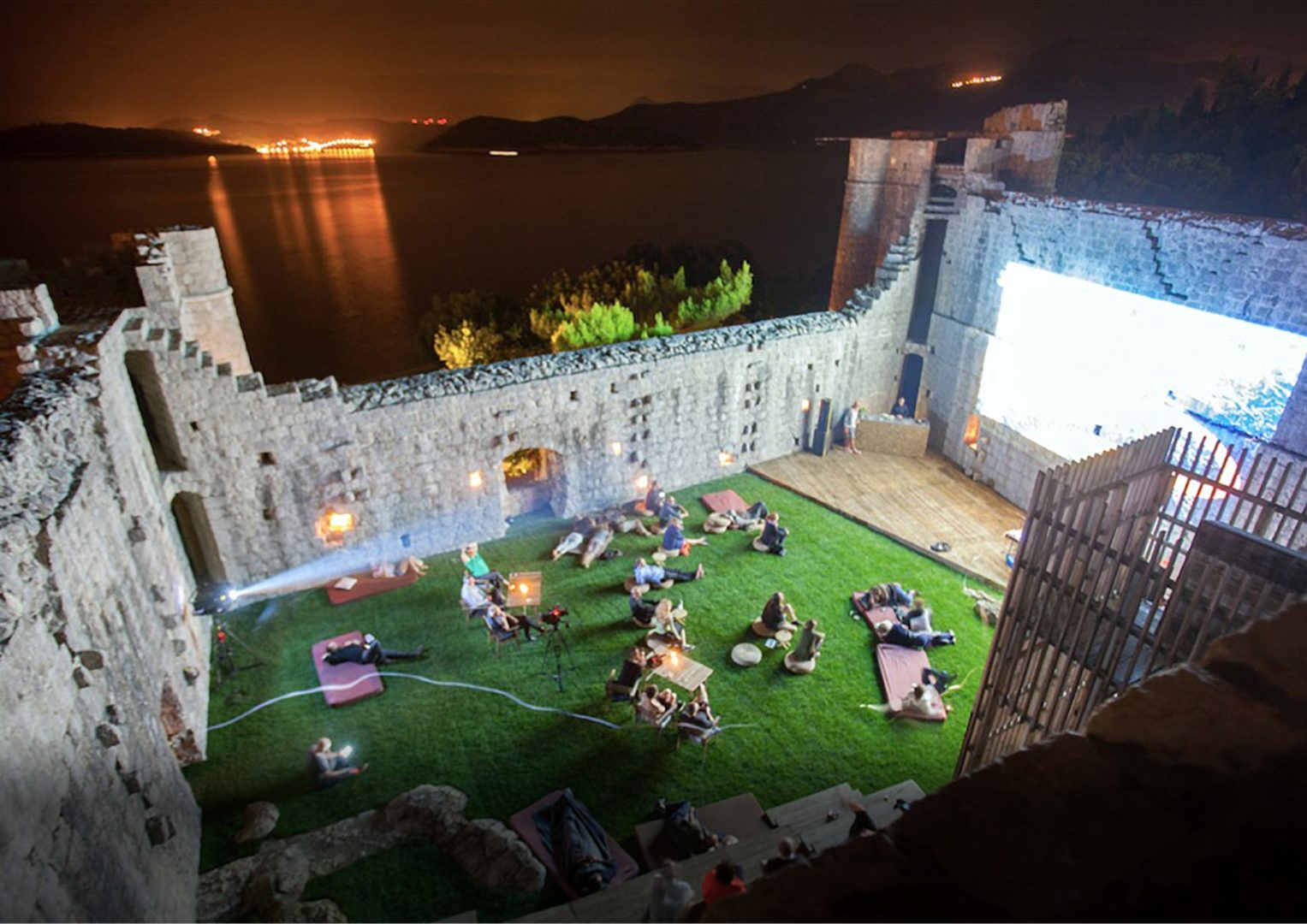 FORTRESS
Shielded by massive walls built in the 16th century to protect the villagers from enemy attacks, the sempiternal structure of the fortress offers exceptional acoustics.
Thanks to its outstanding AV equipment and backstage facilities, it provides a unique setting for technically demanding concerts, parties, and performances.
PARTY FOR UP TO 180 GUESTS
DINNER FOR UP TO 80 GUESTS
CONFERENCE FOR UP TO 80 GUESTS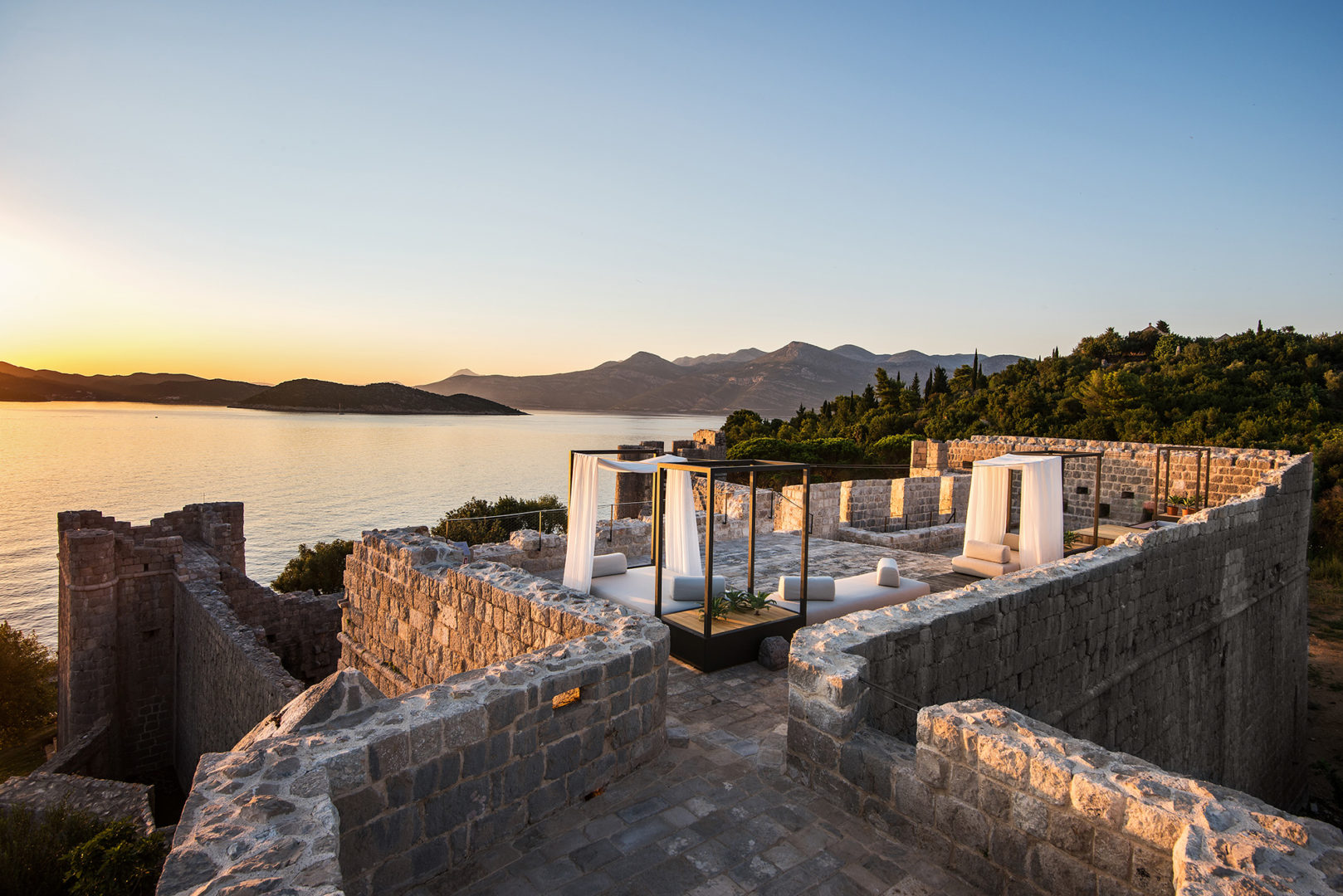 SUNSET TERRACE
Located on the top of the fortress, the Sunset Terrace, with its pristine views of Lopud and the Elaphiti islands, is an unforgettable setting for hosting cocktail parties and receptions and the perfect place for spontaneous stargazing under a glittering night-time sky.
Canopied sofas, by Italian designer Paola Lenti, provide a comfortable, shaded location for daytime reveries or midnight sky watching.
COCKTAILS FOR UP TO 25 GUESTS