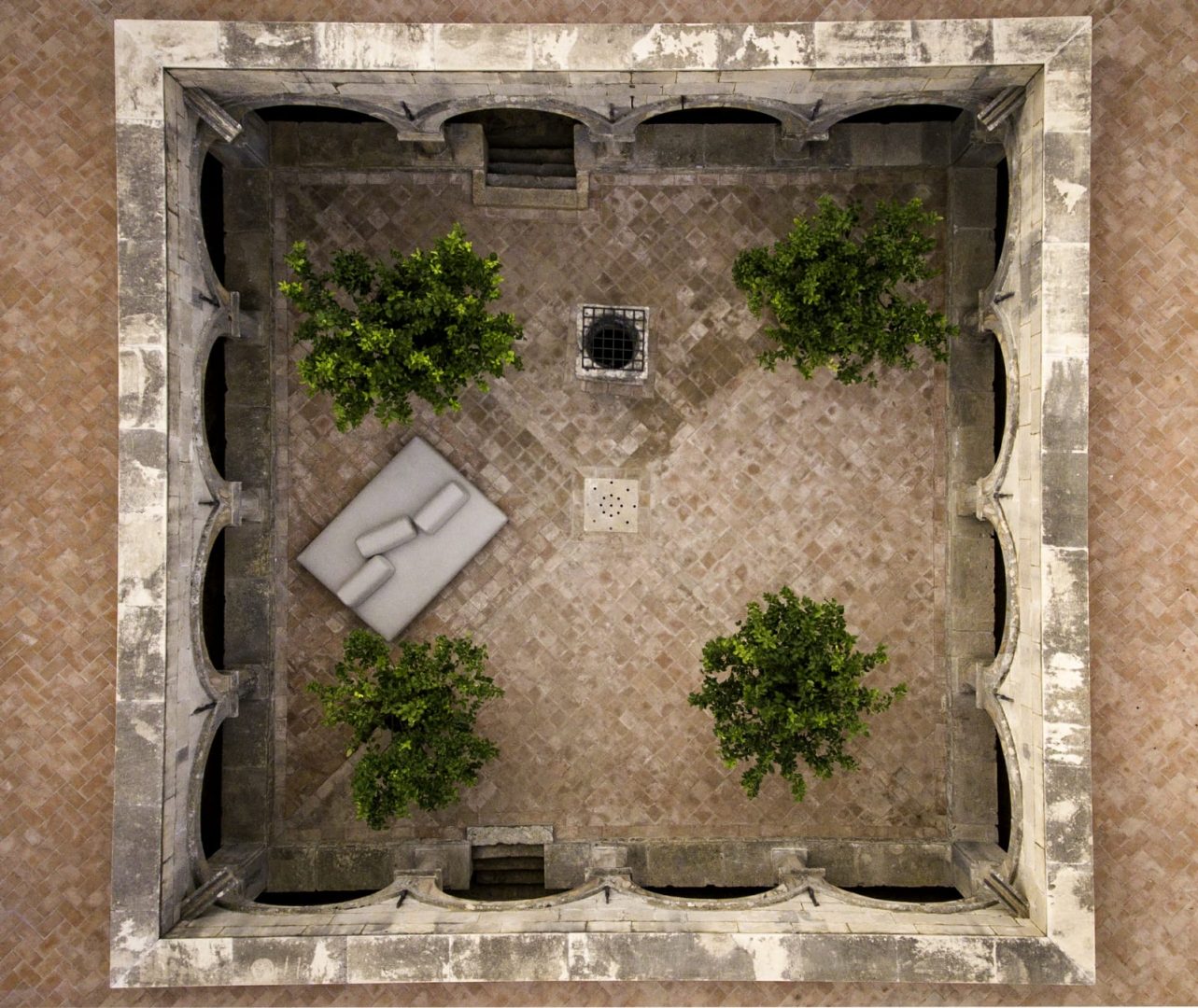 Looking up at the sky, through what remained of the floor above and the missing roof, in the mid-1990s Frank Gehry gave us the following advice: "Take your time with this project!" And we did. Two decades of conservation followed, dealing with layer after layer of history. Every step was carefully designed so that the care and innovative architectural thinking can be seen in a way that does not detract from our host, the historical building.
Restoring the monastery complex meant not only protecting its original shape and character but also finding a concept that would allow to unfold the full potential of its existence in today's time. Our architect, Rujana Bergam Marković, sought to express her creativity through unexpected details and twists in space and achieved impressive ambience thanks to cautious work with color and light.
The interior of the monastery features many pieces of furniture designed by Paola Lenti, a renowned Milan-based furniture designer, whose approach based on serene coexistence of seemingly diverse influences shares the same philosophy that we had for the whole project.
It has been a long journey and an enormous collaborative process to revive this beautiful monastery complex into what it is today, transforming it into a place of shared learning where history, art, and botanical exploration unite the senses. Lopud 1483 is reopened according to Saint Francis's ideals and it lends itself to life and learning again, to culture and the environment.
Creative Adviser
Francesca Thyssen-Bornemisza
Investment and Management
Zdenko Ivan Jereb, Arcus Dalmatia d.o.o.
Architecture and Interior Design
Rujana Bergam Marković, studio Arhitektri d.o.o.
Furniture Design
Paola Lenti, Paola Lenti srl
Lighting Design
Herbert Resch, Susanne Straub, Igor Milekić, Zumtobel Lighting GmbH
Garden Restoration
Mia Mazavac, Ivan Šimić, Maja Anastazija Kovačević, Klara Kozarić, Åsa Andersson (Sacred Garden)
Conservation Architect
Željko Peković, CORE d.o.o.
Heritage Protection Supervision
Zehra Laznibat, Conservation Department in Dubrovnik, Ministry of Culture of the Republic of Croatia
Structural Stabilization
Büro für Baukonstruktionen GmbH, Ivo Matković, Ivica Glogoški
Construction Supervision
Krunoslav Komesar, Gark konzalting d.o.o.
Restoration Project Management
Azra Demir Ramović
Restoration of Historical Plaster, Stone, and Artworks
Zrinka Bočina Prskalo, eLABORO d.o.o.