While the ancient structures resonate with their own histories from the Renaissance to the 17th century, the complex offers a variety of locations and experiences that can be tailored to every taste. The secluded atmosphere of the 5,000 square meters of the monastery, fortress, and garden provides a unique backdrop to enhance any variety of event formats, from the most intimate and private gatherings to high-profile events, as well as seminars, film festivals, performances, and concerts. Private seated dinners, in the Renaissance setting are no longer out of reach. For the most exquisite wedding arrangements in this unique environment full of peace, tranquility and privacy, please contact us.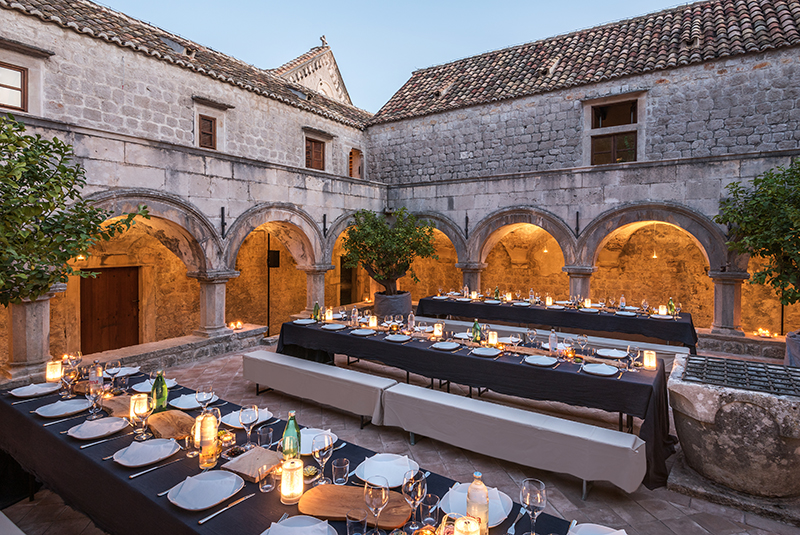 The heart of the monastery is a stunning example of the sensitive restoration of historical plaster, tiles, and stone. Private dinners, receptions, and cocktail parties can be held under the Gothic vaults, as well as in the center of the cloister.
DINNER FOR UP TO 48 GUESTS
RECEPTION FOR UP TO 110 GUESTS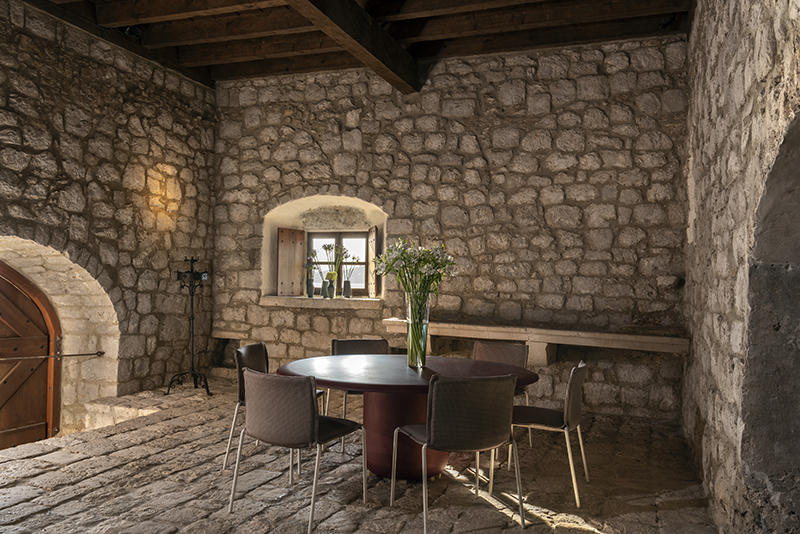 According to the medieval tradition, the charming Old Kitchen includes the possibility to make an open fire and use a large, fully functional bread oven. Thanks to the technique of medieval bread baking, the oven is perfect for making fresh pizzas today. Bare stone walls and an open fire make it an ideal cozy shelter for smaller dinners or cocktails during windy evenings, as well as a good base for a party or a reception in the sunset-facing garden next to it.
Dinner for up to 80 guests
GARDEN RECEPTION FOR UP TO 50 GUESTS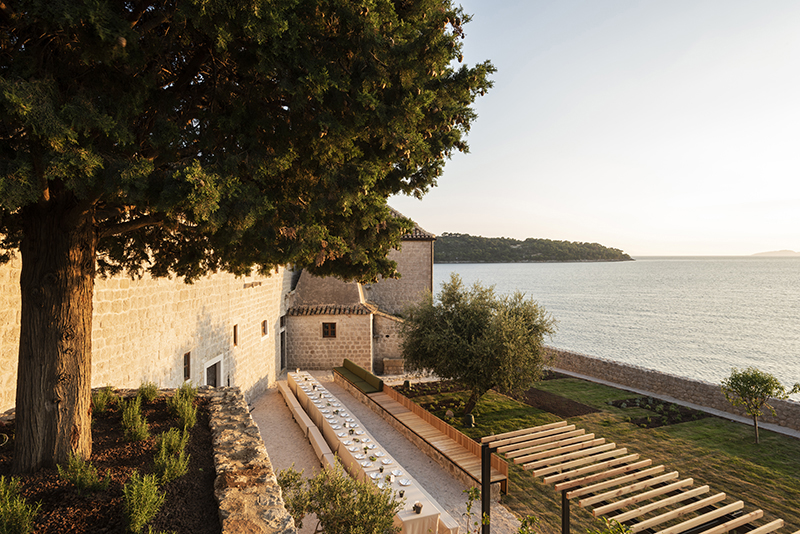 The lower garden once served as a pleasure garden for both the friars and Lopudians, with a traditional pergola walk. Here you can enjoy lounging in the sun or sitting on the lush lawn under the shade of ancient olive trees.
The monastery's sundeck and surrounding garden provide a spectacular setting for dining, receptions, and socializing al fresco.
DINNER FOR UP TO 80 GUESTS
RECEPTION FOR UP TO 300 GUESTS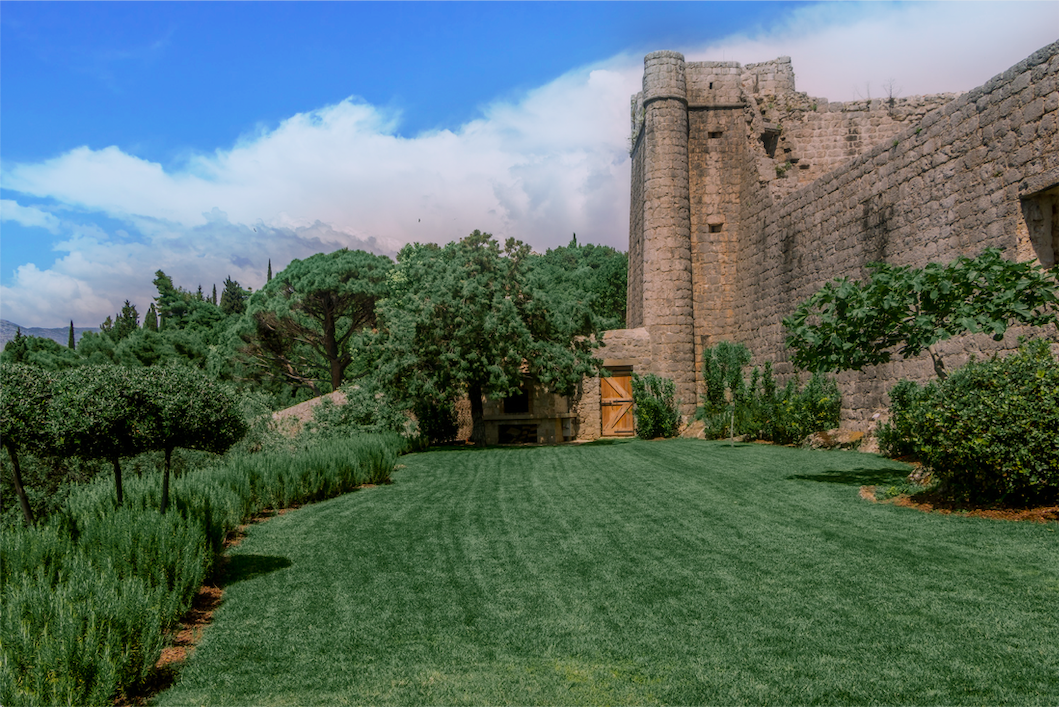 Our Upper Garden, stretching alongside the fortress wall, is surrounded by aromatic herbs and Mediterranean shrubs. It offers stunning views of the neighboring islands and can accommodate a variety of catering formats including seated dinners, picnics, and casual barbeques.
DINNER FOR UP TO 80 GUESTS
PICNIC FOR UP TO 40 GUESTS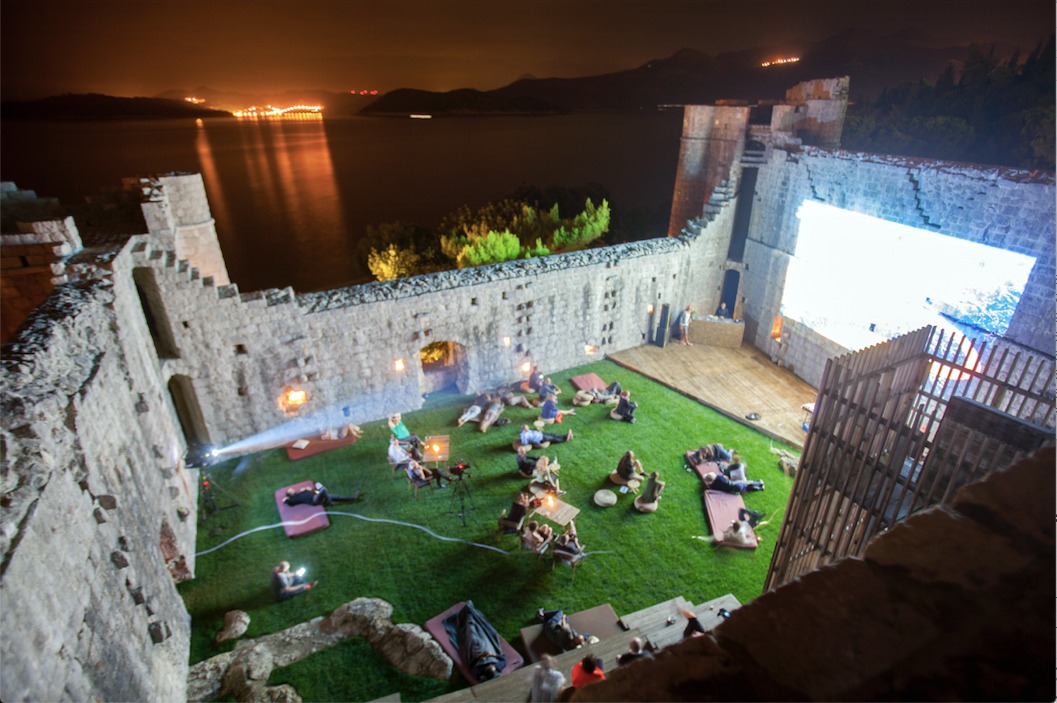 Shielded by massive walls built in the 16th century to protect the villagers from enemy attacks, the fortress offers exceptional acoustics. Thanks to its outstanding AV equipment and backstage facilities, it is a unique setting for technically demanding concerts, parties, and performances.
PARTY FOR UP TO 180 GUESTS
DINNER FOR UP TO 80 GUESTS
CONFERENCE FOR UP TO 80 GUESTS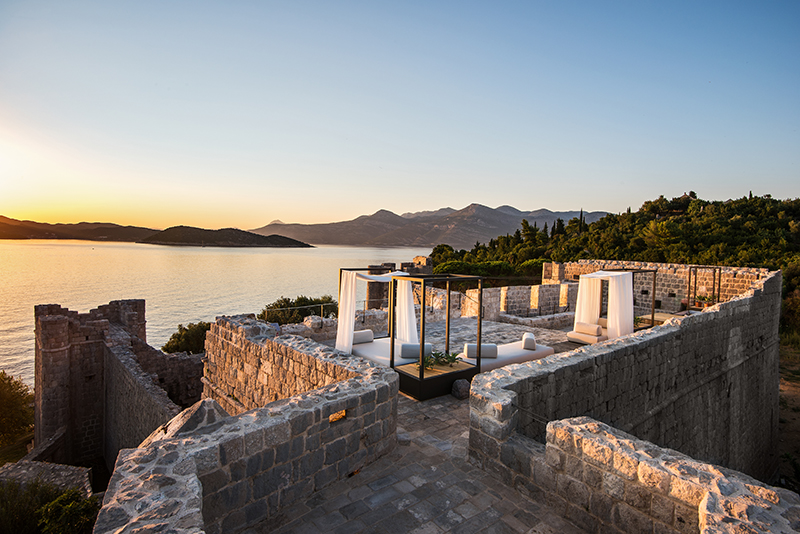 Located on the top of the fortress, the Sunset Terrace, with its pristine views of Lopud and the Elaphiti islands, is an unforgettable lounge that is ideal for hosting cocktail parties and receptions, as well as spontaneous star-gazing gatherings.
DINNER FOR UP TO 25 GUESTS
COCKTAIL FOR UP TO 25 GUESTS